For over two years Hibernia Bank has been a .BANK institution. More and more banks are now making the switch. A bank must be verified and authenticated by fTLD to register as a .BANK. This means that hackers and bad actors cannot get a .BANK domain name to create a lookalike Hibernia Bank website. .BANK offers the bank and our customers an additional layer of protection by allowing you to confirm that emails and websites of ours are real.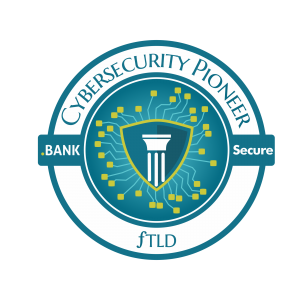 For your security we will never ask for your account information electronically. Should you ever have any questions or concerns please contact us by phone at (504) 522-3203.
Customers are advised to never give out confidential financial information in response to an unsolicited e-mail. Remember, Hibernia Bank does not request confidential, personal or secure log-in information via e-mail.
Customers should be cautious about e-mailing personal or financial information since e-mail IS NOT a secure communication channel.


Be wary of anyone calling you to ask for bank account or personal information over the phone. Hibernia Bank will never call you to ask for confidential information.


Beware of Phone, Mail and Email Scams

Scammers don't just send spam. They can also call you or send mail that looks official or threatening. You should never respond to phone calls, emails or mail that requires or demands sensitive information or payment without checking its source.
Online E-Banking Security
E-Banking Requirements

To access the E-Banking Service you must have an Internet Explorer or compatible web browser and 128-bit data encryption. We recommend that you periodically check your browser and download the most up-to-date version available.
Your Responsibility
Do not give out your identifying information such as your PC Password to any other person. The Bank may rely on your Access ID to identify you when providing banking services to you.

Do not leave your account information displayed in an area accessible by others

Do not leave your PC unattended while using E-Banking

Notify us at (504) 522-3203 immediately if you suspect that your Access ID or Password has become known to any unauthorized person.

Eligible Accounts

In addition to compatible software, you must have an Internet banking User ID, and maintain one or more eligible accounts at Hibernia Bank. To use our E-Banking Services, you will need to have or establish one or more of the following accounts: Economy Checking, Regular Checking, Money Market Deposit Account, or Statement Savings. Any account that requires two or more signatures to make withdrawals, transfers or other transactions is not eligible for E-Banking Services.
Accessibility

You can usually access E-Banking Services seven (7) days a week, twenty-four (24) hours a day. However, at certain times, some E-Banking Services may not be available.
Restrictions

You may not appropriate any information or material that violates any copyright, trademark or other proprietary or intellectual property rights of any person or entity while using the E-Banking Services. You may not gain, or attempt to gain, access to any E-Banking Service server, network or data not specifically permitted to you by Hibernia or its suppliers, and you must not include any obscene, libelous, scandalous or defamatory content in any communications with Hibernia or its suppliers.
Cash Management Services Agreement

To become eligible for E-Banking Services, you must accept and agree to the terms of the Cash Management Services Agreement. See the Cash Management Services Agreement for the details of the E-Banking Service.
E-Banking Online E-Mail Communications

Electronic messages sent and received via the "Contact Us" option in E-Banking are secure (i.e., once Hibernia has accepted your Access ID and Password and your browser shows that a secure connection has been established). Communications sent over the public Internet, or through your own e-mail software, is not necessarily secure. Therefore, we will not send, and we strongly suggest that you do not send, any confidential account information unless using the "Contact Us" option within the E-Banking System. You agree that we may take a reasonable time to act on any e-mail. Correspondence that requires expeditious handling – for example, if you need to report an unauthorized transaction from one of your accounts, or if you need to immediately stop payment on a check you have issued, should be made by calling Hibernia at (504) 522-3203. You agree that Hibernia may send you electronic messages about other products or services that we offer.
Virus Protection

You agree that Hibernia is not responsible for any electronic virus that you may encounter while on the Internet using E-Banking. We encourage you to routinely scan your computer and disks using any reliable virus protection product to detect and remove any viruses found. Undetected or un-repaired, a virus may corrupt and destroy your programs, files, and hardware.
Links to Other sites

Information that Hibernia publishes on the Internet may contain links to other sites and third parties may establish links to Hibernia's site. Hibernia makes no representations about any other website that you may access to, from or through this site. Unless expressly stated in writing, Hibernia does not endorse the products or services offered by any company or person linked to this site nor is Hibernia responsible for any software or the content of any information published on the site of any third party. You should take precautions when downloading files from sites to protect your computer software and data from viruses and other destructive programs.
Charges and Fees

Fees for E-Banking Services are set forth on a fee schedule available from Hibernia. Customer Service requests for which Hibernia may charge you include: ordering copies of checks, copies of statements or other requests made through the "Send a Request" option. These service requests are subject to Hibernia's normal service charges that were/are disclosed at account opening and in any subsequent editions of or amendments to your Schedule of Fees and Charges. Please refer to the latest version of your Schedule and any applicable amendments.
Online Banking Data Security
Risk Assessment Layered & Security
Privacy Policy

Hibernia Bank respects the financial privacy of our customers and we comply with laws and regulations designed to secure that privacy. During our normal course of business, we routinely collect personal information in opening deposit accounts or in processing loan applications. To help you better understand how your personal information is protected here at Hibernia Bank, we are providing you with the following statement describing our practices and policies with respect to the privacy of customer information.
At Hibernia Bank:
We do not disclose any nonpublic personal information about our current or former customers to any affiliate or nonaffiliated third party except as permitted by law.


We may collect information volunteered by you during the application process, gathered from your transactions and experiences with us, and obtained from other authorized sources, such as credit bureaus. All information collected and stored by Hibernia Bank is used for specific business purposes, such as administering your account, complying with state and federal banking regulations, protecting against fraud, and developing a better understanding of your financial needs to provide you with improved products and services.


We understand that the protection of your nonpublic personal information is of the utmost importance. Guarding your privacy is our obligation. Hibernia Bank maintains strict procedures and policies to safeguard your privacy. We restrict employee access to customer information, and we educate our employees about the importance of confidentiality and customer privacy.
We value your business and the trust you put in Hibernia Bank. Your confidence in us is very important and we want you to know that your personal and account information is safe. If you have any questions or concerns, please contact us.
Legal

We comply with Section 326 of the "USA Patriot Act" that mandates we verify certain information about you while processing your account application.
All loans subject to credit approval.